Higher Education: A Special July Roundup
Retail sales are increasing but cultivators feel like they're losing revenue, how could it be?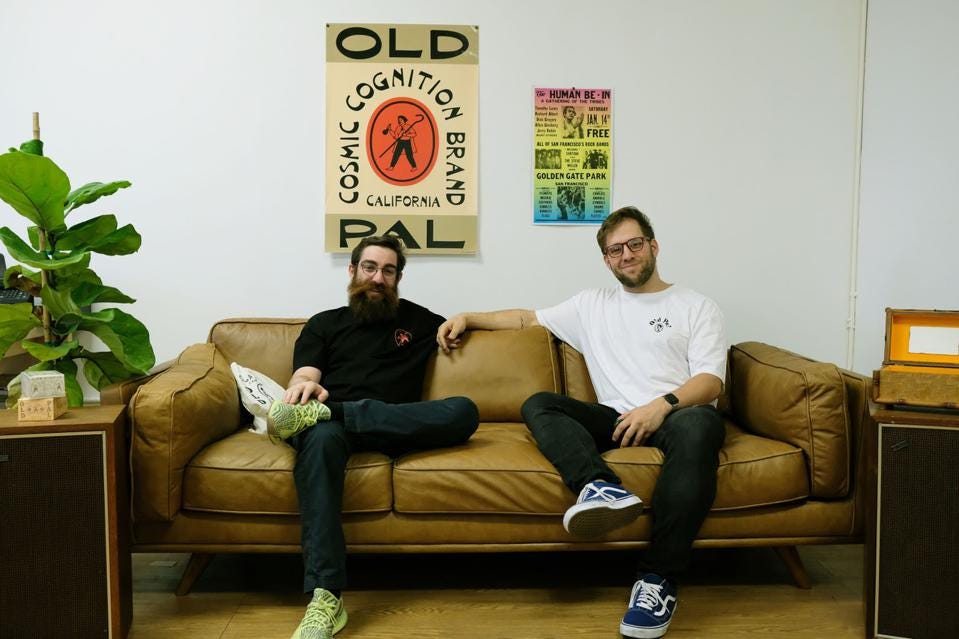 Russel Wilenkin (L), CEO, Old Pal & Brett Fink (R) MP, Greater 📸 : Jamie Addison
Another big month in the cannabis markets. Check out or top 5 must knows, a special regulatory AMA with top cannabis & hemp compliance firm, and our team featured in Forbes.
TOP 5 UPDATES: COVID-19
Wondering how COVID-19 is affecting cannabis sales?
The top trends we spotted:
📈Global legal cannabis spending is forecast to reach $47 billion in 2025.
📊More than 80% of the US population currently supports legalization in some form and almost 70% consume or are open to consumption.
💰Federal cannabis legalization could amount to over 50 billion dollars in government revenue, which could cover the cost of treatment of all coronavirus patients.
🗣Nearly two-thirds of cannabis cultivators say COVID-19 has impacted their businesses. 23% said it decreased sales and 22% reported staff reduction and hour reductions.
🌿State to state sales are increasing compared to last year's data, and weekly sales trends have returned back to normal.
Like our roundup? Subscribe to our updates here
---
Is cannabis compliance and regulation just one big headache? This headache is why MadisonJay Solutions was formed - to start helping folks understand how to work in a hyper-regulated market. From the alcohol space to now working in cannabis and hemp, Michael Cooper & Eric Becker are working across the US with retailers, brands, and cultivators to answer some of the most contentious questions. The team sat with us to talk through some of the hurdles along the way.
---
Greater Holdings was mentioned in Forbes last week. Warren Bobrow goes in-depth with our CEO Brett Fink on his experience building Old Pal and other cannabis brands. (cough, building Greater)
---
In 2019 it was estimated that 165,000-210,000 people worked in cannabis. By the end of 2020, that number is estimated to double to 240,000-295,000. This number is higher than all computer programmers employed in the US! Despite the pandemic halting the hiring numbers in the last couple of months, cannabis employment is still rapidly rising and there are projected to be 500,000 cannabis jobs in 2024.
---
Apothecarium, a high-end dispensary went with locations in Nevada and California, recently reported how much COVID-19 increased their edibles sales, as they transitioned from in-store pickup to curbside. The general manager, Ms. Manzello said that the company's edible sales are up 16 percent.
Alex Levine, an owner and joint CEO of Green Dragon, a dispensary with many locations throughout Colorado said, "Edibles every year have been taking up a bigger slice of the pie." He stated that coronavirus had a huge impact on edible sales. This is most likely due to the fact that some are staying away from smoking, due to coronavirus being a respiratory disease.
---
Sen. Ed Markey, a Democratic senator said that if Democrats take control of the Senate and White house in the upcoming election, they will act very quickly to federally legalize cannabis. Markey said that this will be the case regardless of where Biden stands on the issue. He stated, "We'll move very quickly in January to change these laws to make sure that there are national protections which are put in place."
---
The cannabis beverage market is very new and has many unknowns, but that's not stopping Canopy Growth Inc. from doubling down on the market. "Canopy Growth is betting that the secret to finding new marijuana consumers comes in a can." They have currently shipped 530,000 beverage units to date. Although initial sales have been strong the future remains unknown, cannabis beverage sales remain underwhelming in mature adult-use markets in the United States.